Victoria Sponge Cake - A royal cake
Strength Post workout meal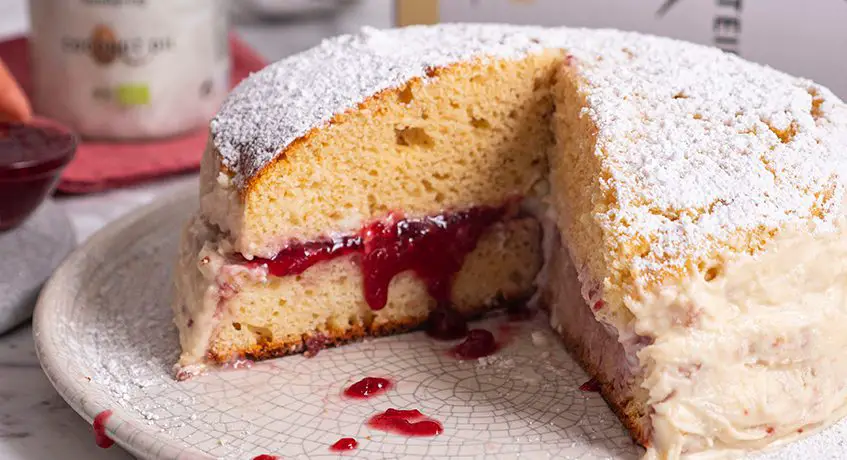 Victoria Sponge Cake is a royal cake from Great Britain, and was Queen Victoria's favorite dessert! foodspring has revisited it so that you too can make yourself a royal dessert! 2 sponge cakes, topped with strawberry jam and vanilla cream or whipped cream. We told you, a royal dessert!
Ingredients
For the sponge cake:
4 eggs
3 tbsp Coconut oil Coconut oil
350 g skyr (Icelandic yogurt)
200 g stevia
320 g spelled flour
80 g Vanilla Whey Protein Vanilla
1 sachet baking powder
optional powdered sugar
For the topping:
300 g skyr (Icelandic yogurt)
30 g Vanilla Whey Protein
100 g raspberry jam, sugar free
Instructions
Preheat the oven to 180 ° C.
In a salad bowl, pour the eggs, coconut oil, yogurt and stevia. Mix everything until you obtain a creamy mixture.
Then add the flour, Whey and baking powder and mix everything together to create a dough.
Prepare two identical molds with baking paper or a little oil in each mold. Divide the dough and spread it evenly in each pan.
Bake for 20 min. Then let cool completely.
For the topping, mix the Whey yogurt in a bowl.
Cover one of the sponge cakes with jam and then with the yogurt / whey mixture. Cover everything with the second sponge cake.
Garnish the Victoria Sponge Cake with powdered sugar or foodspring Coconut Spread. Cut into 10 pieces and serve.
Enjoy your meal !
Notes
For your Victoria Sponge Cake, if you don't have two different baking sheets, you can bake the entire dough in one flat-bottomed dish. Double the cooking time and often check the condition of the dough. Once cooked and cooled, simply cut the dough in half lengthwise. You will thus have 2 sponge cakes!
---