Hot Cross Buns
Strength Post workout meal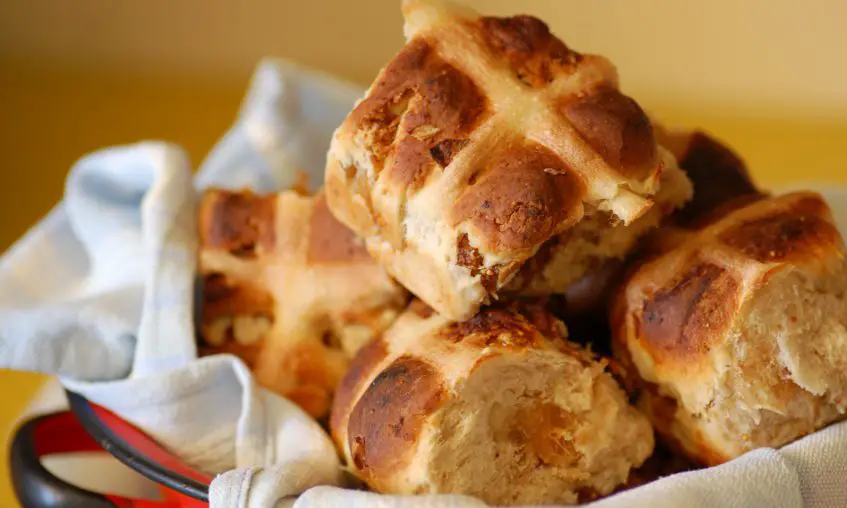 Want to change from the traditional brioche for your brunches? The "hot cross buns" - English rolls in French - come straight from Great Britain. This sweet recipe is ideal for enjoying tea with friends. Best of all, we've added some great nutritional value to you with our Whey! What else?
Ingredients
300 ml buttermilk
1 cube of fresh baker's yeast
1 tsp Brown sugar
1 orange (juice & zest)
30 g Coconut oil Coconut oil
400 g spelled flour
80 g Vanilla Whey Protein
1 tsp cinnamon
80 g raisins
For the cream
60 g spelled flour
50 g water
optional maple syrup
Instructions
Reheat buttermilk until lukewarm.
Pour the buttermilk in a large bowl and add the yeast, sugar and mix for 1 minute.
Add the orange zest, orange juice, coconut oil, flour, Whey and cinnamon. Mix everything until you get a paste.
Add the raisins. Cover the dough with a clean cloth and let stand for 1 hour.
Knead the dough with a little flour. Make 8 large balls of the dough.
Prepare a baking sheet with baking paper. Place each ball on it.
Preheat the oven to 180 °.
Mix the flour and water to obtain a thick cream and put it in a pastry bag.
Pour cream between each ball, like a wire mesh.
Bake for 20 to 25 minutes. Cook until the balls are golden.
Serve as is or with maple syrup.
Enjoy your meal !
---